Kentucky's First and Only Accredited Home Watch Business
Serving Louisville and the surrounding area
Contact Us!
You have finally made plans for your upcoming trip – accommodation reservations, travel plans, special events, etc.    But, who do you have to watch your home and property while you are away?   Will they be accredited, certified, bonded and insured?  Will they be trained to look for potential issues and problems?   Will they even know what to look for when visiting your home?
Do you have a senior family member who will be away for several months, but you have too much on your plate already to stop by their home or condo weekly?  Why not have someone trusted to look in on their home/condo looking for issues and report to you about the condition of their home?
Prestige Home Watch Services is a new concept serving Metro Louisville, Kentucky.  We are committed to providing consistent and dependable service that you may not be able to receive from a neighbor or family member who have other commitments.
Our services are available for the following areas:
Jefferson County including St. Matthews, Prospect, Middletown and Anchorage
Oldham County, including Prospect, Crestwood, and LaGrange
Shelby County, including Shelbyville and Simpsonville
Prestige Home Watch Services provides a visual inspection of an unoccupied home or property looking for obvious issues.  
Should we notice an abnormality, we will report it to you immediately and assist in coordinating licensed professionals to remedy the situation if desired. Essentially, we become an advocate on your behalf during your absence, as a trusted resource.
Our basic inspection of your unoccupied home or property will include a complete exterior and interior check according to your directions.  We will provide a detailed checklist of areas covered and pictures of any issues or concerns promptly upon completion of the inspection.  We are trained with the industry's best practices to ensure you are informed and confident your property is in good condition upon your return.
What we are NOT is a …
home inspector
house sitter
pet sitter
general contractor repairing problems or issues
security service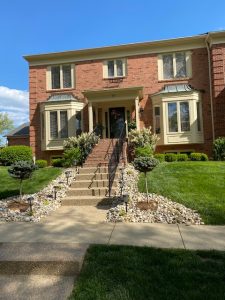 So, what could really happen at your home?  An issue of ant infestation was discovered on the first inspection of a property.  It was addressed and prevented from spreading to other areas of the house.  This could have been a nightmare upon the owner's return if not remedied early.    In Kentucky, we are concerned about storm damage, power outages, and snow or cold weather freezing pipes.  Prestige Home Watch can keep a weekly or bi-weekly eye on your property so these issues will not ruin your vacation or add additional concern about a vacant property.
Prestige Home Watch Services is focused on helping you enjoy your time away with the confidence someone is looking after your home, vacation home or investment property during your absence.   Please call us for our range of services and pricing at 502-792-9070 or email at info@phwky.com.
I would definitely recommend Prestige Home Watch to check your home when you need to be away. I was vacationing for several months this past winter and it was great to have Prestige checking on my home both inside and outside. Not only did I get weekly reports and pictures of anything that needed attention but my house plants looked better when I got home than when I left. The fees are reasonable and worth the peace of mind.
– Debra F., Louisville
I recently used Debbie's services when I was on vacation for a month. To know my home was being cared for gave me tremendous relief. She sent weekly report's assuring me everything was in order. I would definitely recommend and will use her services again.
– Peggy, Louisville
Contact Us For more information